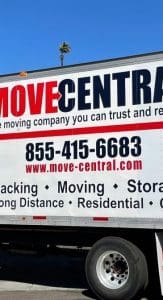 Los Angeles Movers
You Can Trust
Providing high quality professional packing, moving and storage services for over a decade.
Call Move Central Now
#1 Los Angeles Movers
FREE BOXES
(call for details)
ONE month storage free
Free storage offer valid from October through March
Call Us Now

858-230-8281
Are you looking for Los Angeles movers? Call Move Central to learn all about our moving services.
Move Central is one of the most high-demand moving companies in Los Angeles area. We are consistently top rated because we are dedicated to delivery quality packing, moving and storage services to our clients.  We have built an exceptional team that is highly trained to ensure that they are providing all of our Los Angeles clients with quality and efficient service.
Move Central Services
No one understands your moving needs better than Move Central. We, at Move Central, are aware that every moving situation is unique and hence, our highly trained staff strives to offer the best services to our Los Angeles residents. All our moving plans have been designed keeping your specific budget, time and other concerns in mind.
Move Central offers many services including;
Residential & Commercial Moves
Local & Long Distance Moves
Packing
Storage
Residential 
Here at Move Central. We are highly trained to move all of your items in your home. We are trained to safely move difficult items such as;
Pianos
Beds
Pool Tables
Heavy Dresses
You can count on us to properly, safely, and efficiently move all of your most difficult belongings.
Commercial Moves
Not only do we offer moves for residential properties, but we also happily move offices and commercial properties.
Our commercial movers are fully prepared to help move a wide range of office equipment including:
Filing cabinets
Desks
Office furniture
Chairs
Modular furniture
Cubicles
Commercial and Office Moving Offerings
Long or Short-term storage for your furniture and fixtures and office boxes
Office furniture and workstation installation
Packing and unpacking
Professional tools, equipment and moving supplies
We can custom order specialty boxes as needed
Floor, door and furniture protection
California ProMover status
Local & Long-Distance Moves
We have been serving out customers for over 10 years and we have proven time and time again that our local and long distance movers are exceptionally trained.  We strive to make every move as effortless and stress-free as possible.
Not only will we move your home or office anywhere within the Los Angeles area we will also move you anymore in the country! At Move Central, we strive to deliver the absolute best quality of service to each and every client, regardless of the size or distance of the relocation. We are proud to be the most referred to long distance movers and work hard to keep that reputation. Our team will be with you every mile of the way.
It doesn't matter if you are moving across the street or across the country, our truck tracking service and communication system will let you know exactly where your possessions are so you can concentrate on exploring and settling into your new town.
Move Central offers two options for long distance moves, to help customers relocate cross-state with any budget. 
First Option: For folks who want their belongings driven alone, we have dedicated trucks, which offer multiple benefits. First, there's no chance for your belongings to get mixed with someone else's. Your belongings are never transferred from truck to truck on the road, and there's much less wait time when you use a dedicated truck.
Second Option: If you're looking to spend less on your long distance move, we also offer shared trucks at discounted prices. For our shared truck customers, we utilize inventory lists and barricades to separate the loads being carried, keeping customers' items from mixing and ensuring that you receive all your belongings properly in your new home.
Storage Services
At Move Central Moving and Storage, we offer moving services and vaulted storage in San Diego, Bay Area, Los Angeles and Orange County that residents love and rely on, and with good reason. We pride ourselves on offering you clean, secure, and well-maintained storage in our state-of-the-art facility.
As one of the finest moving companies in San Diego, Bay Area, Los Angeles and Orange County we are your best choice for all your moving and storage needs.
All of your items will be picked up by our professional movers using our specialized moving equipment, carefully placed into wooden storage vaults, and stacked safely inside of our alarm-protected warehouse until you are ready for them again.
When you need your items again, Move Central will just as carefully load them onto one of our moving trucks and deliver them back to you—wherever you are!
Packing Services
At Move Central, we boast a completely customizable packing and moving service, allowing you to choose which items you want packed and how. This is the only way to ensure that we are able to perfectly cater to the individual needs of every single one of our clients.
Our packing services include:
Full-service packing: We will pack up your entire home, top to bottom, not leaving a single item behind. Our crew will go from room to room, pack all your items and make sure nothing gets left behind.
Partial packing: When you don't want professional packers to put all your belongings in boxes, but just need help with a room or two, Move Central can do that as well. You can customize your partial packing service to include one room, or two, or you can choose:

Kitchen packing
Bedroom packing
Essential packing

Unpacking: Once you choose what kind of packing service you need for your home, it's time for our crew to take all your items to your new place of living, bring them into your new home, and carefully unpack them so that everything's ready when you arrive.
Our Los Angeles Team
Contact Los Angeles Movers
If you are looking for Los Angeles movers to help with your long distance or local residential and commercial moves you can contact Move Central. You can contact us at 323-800-2230.
Los Angeles Loves Move Central
Move Central Moving & Storage
Average rating:
6 reviews
Aug 8, 2022
Move Central made my move a positive experience. Scheduling was very helpful with my date changes and easy to work with. Constant communication with office and dispatch. The three men who moved me were fast, thorough and all personable and respectful. They cleaned up every piece of cardboard & wrapping materials. I highly recommend this company!
Aug 8, 2022
I had a phenomenal experience working with Move Central. The three man crew was so kind and worked very hard to creating a positive moving experience. They were also great with keeping me very informed on arrival time plus contract agreements and protocol. I felt supported and very safe which I truly needed after major life trauma plus recovering from Covid. Chris, my go to person who reached out initially to confirmed that their crew was confirmed for ny move day and tome.
Aug 8, 2022
I have had nightmares about moving based on previous experiences with movers. Move central was a great experience! They were in time, moved quickly, we're very careful with our things and did everything they could to ensure we had a great experience. I'd recommend these guys 10 times out of 10!
Aug 8, 2022
They are great guy. They were really friendly, prices are reasonable, fast work.  You should choose them!
Aug 8, 2022
Lowrell D. And Devonte R. were both really helpful. They did a great job and carefully took apart the furniture and moved everything without damaging anything.
Aug 8, 2022
We were serviced by the Los Angeles Branch. Eric, Jerry, and Ozzie did an amazing job. The customer support leading to the move date was great. I got a call a few days before confirming my move. On the day of the move I got a text. Eric, Jerry, Ozzie handled our furniture so well and were thorough in the process. We are recommending to everyone and anyone. Thanks guys!
Los Angeles Moving Services