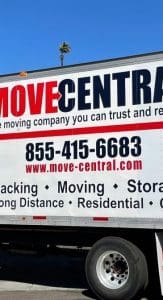 Anaheim Movers You Can Trust
Providing high quality professional packing, moving and storage services for over a decade.
Call Move Central Now
#1 Anaheim Movers
FREE BOXES
(call for details)
ONE month storage free
Free storage offer valid from October through March
Call Us Now

858-230-8281
Are you planning on moving to Orange County and need Anaheim movers? You can contact Move Central and we would be happy to give you a free quote for your moving project.
Why Choose Anaheim Movers for Your Move
Move Central offers many packing and moving services for Anaheim residents. We can move both residential and commercial properties. Our full-service packers can also provide packing services and supplies for your move regardless of the size of the property. 
Below are the services we provide:
Residential
Our professional movers are able to move your belongings from one home to another. We can move our customers who live in any size of home. We have helped clients in both apartments as well as large residencies. No matter the size of your home we will take care of your belongings with respect and care. 
Commercial
As a business owner, you have a lot to worry about! When it comes time to upgrading to a larger office location let us take the reins. We would love to help with your office moves. Let us focus on the move so you can just focus on your business. Our team is trained to take care of your office supplies so you can relocate with ease.
Long Distance
Our long distance movers are trained to move both interstate and intrastate. Whether you are moving from Anaheim to Los Angeles, or Los Angeles to Las Vegas– we have got you covered! No distance is too far for our Anaheim Movers.
Local
As professional local movers we help all of our customers located in the Anaheim area with their moves for both residential or commercial. Whether you are moving your office, apartment, or home, we have the skills to move effectively and efficiently.
Packing 
Don't want to pack up your stuff? We totally understand! Packing is one of the worst parts of the moving process. Our team is trained to pack your belongings professionally in order to protect them during a move. Let us make your move a little easier.
Just need supplies? Move Central offers a variety of packing supplies!
Storage in North Hollywood
At Move Central Moving and Storage, we offer moving services and vaulted storage in Los Angeles area that residents love and rely on, and with good reason. We pride ourselves on offering you clean, secure, and well-maintained storage in our state-of-the-art facility.
All of your items will be picked up by our professional movers using our specialized moving equipment, carefully placed into wooden storage vaults, and stacked safely inside of our alarm-protected warehouse until you are ready for them again. 
When you need your items again, Move Central will just as carefully load them onto one of our moving trucks and deliver them back to you—wherever you are!
About Anaheim
Anaheim is most popular for its tourist attractions and is home to 353,000 residents. Anaheim is the home to world famous Disneyland and California Adventure. You can also check out the Packing House, Adventure House, or you can see a baseball game at Angels Stadium. Anaheim is also full of wonderful parks, amazing shopping and fabulous shopping. 
Contact Anaheim Movers 
If you are interested in moving in Orange County you can contact Anaheim movers to help with your packing and moving needs.
Anaheim Loves Move Central