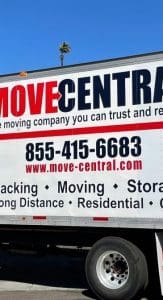 Irvine Movers You Can Trust
Providing high quality professional packing, moving and storage services for over a decade.
Call Move Central Now
#1 Irvine Movers
FREE BOXES
(call for details)
ONE month storage free
Free storage offer valid from October through March
Call Us Now

858-230-8281
Since the mid-1900's, Irvine has been developing into one of the most prestigious master-planned cities in the country making it a great place to work, live, and play. In fact, according to Irvine Standard, an FM3Research survey found 90% of residents say their quality of life living in Irvine is excellent or good.
A DIY move can certainly interfere with that kind of happiness. That's why it's best to hire professional movers in Irvine who can eliminate a lot of stress that moving creates. Move Central is a reputable, experienced, and efficient full-service moving company you can trust!
Premier Moving Services in Irvine
Relocating your home or office – near or far – is a demanding and complicated task. Many people don't even know where to start which leads them to procrastinate. This causes more stress as the window before moving day gets smaller and smaller, giving you less time to prepare. Hiring professional movers can eliminate your anxiety and physical duties by taking the burden off your shoulders.
Move Central caters towards residents and businesses offering comprehensive moving services that include:
Packing
Unpacking
Loading
Unloading
Disassembly
Reassembly
Storage
Being a ProMover of California, we maintain high standards of quality work and customer support. We can help you with any type of move including:
Local moving
Intrastate moving
Interstate moving
Commercial / Office moving
Irvine's neighborhoods consist of 24 villages each having their own unique flare. Laguna Altura has Italian style two-story homes with its own recreational center and in close proximity to major freeways 405-133. Northwood contains large Spanish style homes and apartments set in a mature strategic landscape design. Orchard Hills is a 1,320 acre community nestled in the foothills that provides a number of different housing types such as detached home, townhomes, and apartments. So on and so forth.
Our licensed and insured movers are proficient with any types of residential and commercial moves. We know how to navigate tight corners, stairways, narrow hallways, etc. We'll also ensure to protect your home and property with floor runners and pads while our crew comes and goes with packing and loading up your belongings.
Moves can be stressful and time-consuming. That is why you should immediately turn to your dependable movers from Move Central and ensure a hassle-free move.
Specialized Irvine Movers
From the very moment we founded our moving company, we have strived to provide our customers with a unique experience that includes:
Personalized moving service
Systematic and professional approach
Efficient strategic planning for every move
Adhering to strict and realistic timelines
The combination of our reasonable pricing and customer-oriented business philosophy has enabled us to stand high above other professional moving companies across Orange County.
It's allowed us to:
Stay in business for over 10 years.
Complete 40k+ moves.
Earn a 4.8 Google star rating
Boast a 97% referral rate
We also take pride in the fact that our movers go through an intensive application and interview process. Each and every one is also background checked and drug tested before they're hired. They're then trained to meet our high standards of moving success, including proper and efficient use of equipment and methods, and superb customer service.
If you're looking for high quality moving services in Orange County to help you with your relocation, hire Move Central.
Schedule a FREE Moving Estimate
We're a top choice among moving companies in Irvine and the surrounding area providing unparalleled moving services. Contact Move Central for safe, efficient, and cost-effective residential or office moves today by calling 949-996-9309 or request a FREE moving quote through our online form.
Irvine Loves Move Central