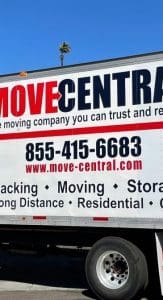 Oceanside Movers You Can Trust
Providing high quality professional packing, moving and storage services for over a decade.
Call Move Central Now
#1 Oceanside Movers
FREE BOXES
(call for details)
ONE month storage free
Free storage offer valid from October through March
Call Us Now

858-230-8281
We have lots of moves of all kinds to and from Oceanside CA under our belts. We would be happy to help you relocate here to Oceanside, a beautiful South Coast city filled with historic landmarks, beaches, and unique architecture. The team at Move Central is well-equipped to handle relocations to this community known for its iconic wooden pier, wide beaches, bustling downtown and picturesque harbor.
We proudly provide these services throughout Oceanside, population 175,000.
Commercial Moves in Oceanside
Business owners: enlist our help with your complex office moves for the ultimate in peace of mind. We know how much more intricate and complicated commercial moves can be vs. residential, so hire us to haul all your heavy equipment so you can focus on cultivating your business.
Residential Moves in Oceanside
Our trained movers know a thing or two about home moves in Oceanside, no matter what type of structure it is (apartment, condo, single-family home). Our attention to detail throughout the whole process is unmatched.
Local Moves in Oceanside
When you've made the decision to move nearby, such as across town or down the street, put a call into our team for a seamless local move. Our intimate knowledge of the neighborhoods, streets and roadways throughout Oceanside help make the transition smooth.
Long Distance Moves in Oceanside
Headed a little further than down the street? No worries. We have long distance movers who specialize in interstate and intrastate moves, equipped with the trucks and logistics to achieve the job.
Packing in Oceanside
If you don't want to hassle with packing — one of the most difficult and time consuming parts of a move – let us know. Not only can we bring the supplies you need, we can pack your belongings safely as well.
Storage in Oceanside
If you need gap coverage for your belongings in between moves in an alarm-protected warehouse, enlist the help of our vaulted storage service. We pick up your items using our specialized moving equipment, strategically placing them into wooden storage vaults and stacking them safely inside. We will return your stuff when you want it back.
Book Your Oceanside Move With Move Central Today!
Book your upcoming Oceanside move and secure your free quote by calling us or completing our online form.
Oceanside Loves Move Central
Oceanside Moving Services
Moving To Oceanside Resources
If you've made the decision to move to beautiful Oceanside, then it is time to get acquainted with your new home. We put together a list of resources that will help you explore and settle in.
City of Oceanside, CA Website – Oceanside is a fabulous city to move to. Find out more about the City of Oceanside
Oceanside, CA Wikipedia Page – Get information on the City of Oceanside on Wikipedia
Oceanside, CA Facebook Page – Follow the City of Oceanside on Facebook during your relocation to Oceanside
Oceanside, CA Jobs – Browse Oceanside job listings prior to your Oceanside relocation
Jobs in Oceanside, CA – Get a great job in Oceanside
Oceanside, CA Real Estate – Check out the best Oceanside neighborhoods, then search Oceanside real estate to find your perfect home.
City of Oceanside, CA Police – The City of Oceanside police department is here to serve you
City of Oceanside, CA Business – Doing business in the City of Oceanside? This is where the information is.
City of Oceanside, CA YouTube – Living in Oceanside gets easier when you watch their YouTube videos
City of Oceanside, CA Twitter – Send a tweet to the City of Oceanside twitter account to find the best Oceanside neighborhood
Oceanside, CA Rotary – After you relocate to Oceanside join the Oceanside Rotary to stay involved
BBB Oceanside, CA – The City of Oceanside BBB will guide you to find quality businesses and services
Oceanside, CA Chamber of Commerce – The City of Oceanside Chamber of Commerce fights for all it's business community members, learn more
Utilities at Oceanside, CA – If you're moving to Oceanside you will want to get your utilities setup sooner than later
Parks in Oceanside, CA – Relax and smile at one of the amazing Oceanside parks
Events in Oceanside, CA – Browse the list of events at this official city guide. Take advantage of all there is to do.