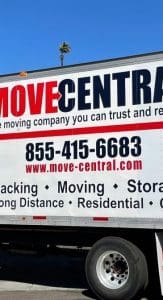 La Jolla Movers You Can Trust
Providing high quality professional packing, moving and storage services for over a decade.
Call Move Central Now
#1 La Jolla Movers
FREE BOXES
(call for details)
ONE month storage free
Free storage offer valid from October through March
Call Us Now

858-230-8281

Move Central is one of the best La Jolla moving companies because of our superior service and attention to detail. We don't just hire any mover. Our team is made up of only the best La Jolla professional movers who have passed a rigorous application process ensuring your relocation receives the very best care. Moving to La Jolla should be as relaxing and dreamy as living there and that's the relocation experience Move Central strives to give every client.
La Jolla Packing & Moving Service
At Move Central, we are proud to be the local movers you trust most. Relocation can be a stressful process, but our team is ready to handle any and all moving jobs of any size. Do you need a team of professionals to help your company's headquarters move to La Jolla? Move Central's team are the top-rated La Jolla office movers. Are you looking for piano movers to help you get that new baby grand home? Count on us!
When you hire Move Central, our team is dedicated to making sure your relocation goes smoothly from beginning to end. Our reliable packers and movers in La Jolla will carefully pack and unpack your belongings, deliver them to your new address, and we even uninstall and install your appliances. Our moving and storage services also include secure storage facilities to suit your needs.
We often hear from people looking for people who are planning to handle their own move and are looking for tips for moving to La Jolla. Not only are we happy to offer advice, we also offer a wide array of quality moving boxes and supplies to get you set up for your DIY relocation.
La Jolla Long Distance Movers
We love the community of La Jolla and the greater San Diego area, but that doesn't mean our services end there. Move Central can handle cross country movers just as easily as moving you across the street. We are ready to cater to your moving needs across San Diego. Whether you're moving to Coronado or some other place in the area, you can count on our help.
What sets our service apart from all the others out there is our commitment to clear and constant communication. You should never feel in the dark during your relocation. We will keep you updated at all times and our truck tracking service allows you to check the status of our trucks day or night.
Discover All The Beauties Of La Jolla
Welcome to La Jolla, the seaside community known for its beautiful neighborhoods and upscale lifestyle. With its beautiful beaches, arts and culture, and abundance of locally-owned shops and restaurants, living in La Jolla makes everyday feel like a getaway.
This lovely town takes pride in supporting its thriving arts and culture community. The La Jolla Playhouse has premiered 25 shows that have gone on to Broadway including Jersey Boys. The Playhouse also boasts 35 Tony Awards and regularly sells out. The Museum of Contemporary Art San Diego- La Jolla is home to 4,700 pieces of contemporary art, focusing on works created from 1950 to the present. The La Jolla Symphony and Chorus has been a staple in the community since 1950 and hosts events throughout the year.
La Jolla has the advantage of having a small seaside town feel and being 20 minutes from the heart of San Diego, the birthplace of California. San Diego is a city that has a little something for everyone. History, theme parks, shopping, you will find it all in San Diego.
For many people, when they think San Diego, they think Balboa Park. Founded in the early 19th century, Balboa Park is one of the oldest public parks in the country. But it is not just a run of the mill park with a swing set and walking path. Balboa Park spans 1,200 acres and includes 15 museums, 65 miles of trails, and the San Diego Zoo.
If you are in the mood for an amusement park, San Diego is home to LegoLand California and Seaworld San Diego, but if you are looking for old fashioned amusement, Belmont Park is waiting by the sea. Walking into Belmont Park is like walking back in time. All of the original rides and attractions from 1925 are still in place.
La Jolla is that rare jewel of a town that offers beauty, lifestyle, and adventure, so let our experienced movers welcome you to this delightful community and make your move hassle-free.
Contact Move Central For You Next La Jolla Mover
If you are planning a La Jolla move then contact Move Central to learn about our packing and moving services.
La Jolla Loves Move Central
When moving to this pretty seaside community known for its upscale lifestyle and beautiful neighborhoods, partner with Move Central to get you there safely and quickly. We enjoy working in this community located just 12 miles from downtown San Diego, with its white sand beaches and focus on thriving arts and culture.
Whether you need residential and commercial moves or local and long-distance moves in La Jolla, home to 46,000, we can serve your needs. Did you know we offer the following services in La Jolla?
Packing in La Jolla
We realize not everyone has the time or resources to pack up their things. That's why you should hire us to do it instead. We can save you stress when our qualified team arrives with all the supplies you need.
Storage in La Jolla
With our vaulted storage services, our team will place your items in an alarm-protected warehouse until you need them back. We pick them up with specialized moving equipment and then carefully stack them in our wooden storage vaults.
Commercial Moves in La Jolla
A business move is much more complex than a home move. For that, you need someone skilled in commercial moves so you can focus on growing your business rather than hassle with logistics.
Residential Moves in La Jolla
It's a breeze to move from one home or apartment to another when you have us on your side. Our expert movers will treat your belongings with care and respect, backed by attention to detail throughout the entire relocation.
Local Moves in La Jolla
Moving locally? We can help. With our advanced knowledge of the neighborhoods, the streets and all the logistical challenges that may arise, we have you covered down the street or across town.
Long Distance Moves in La Jolla
When you have to move further and need the assistance of long distance movers, rely on us to handle your interstate and intrastate move with ease. We bring the trucks and logistics to ensure a seamless long distance move.
Book Your La Jolla Move With Move Central Today!
Get your free quote and book your upcoming La Jolla move by calling us or filling out our online form.